Being the owner of an MNC company have you ever heard about the talks that one of your male employees never does his work on time? Have you ever seen any of your employees busy in his or her phone whenever you entered the office? If it is, then it is quite worrying because this will not only damage the reputation of your company in front of your clients but it will affect the profitability ratio of your business as well.
The employees sometimes are the potential threat to your business secrets as some of them are not much trustworthy yet you need them because they perform well. This will be a very problem for you but with Employee Monitoring App, you can always monitors on what is going on in your company even when you are not physically present there.
Why We need Employee Monitoring App:
Now a day in corporate world Employee Monitoring app is not considered as a means of last opton, but rather has become the necessity of the modern market circumstances. Look at the some of researched statistics, according to this research 98% of companies monitor to some extent digital activity of their employees, but only 11% of employees are not aware of it. Many companies use employee monitoring app for employee online activity tracking, for employee timesheet recording and for improve of information security . With employee online activity monitoring software, you can easily track all the online activities of employees at the computer: monitor websites visited,social media activities, files transferred, app or programs installed, records and evaluate employees' performance.
In this competitive corporate world employee monitoring app is used by innovative and leading companies as they care the most for data protection, and by companies with remote offices for their remote employees monitoring, as well as companies aiming at productivity improvement in a highly competitive market.
Why Should You Prefer it?
Employee mobile spying app not only track the history, location, logs etc. but also saves them in the device of your choice and you can analyze the statistics whenever you find it feasible for you. This app does not ask for unnecessary permissions during the operations. Which means the employees will also not be suspicious about it and a trustworthy relationship will remain stable amongst you and your employee. You can just make use of your spy app if you feel that something strange is going on with your company's data. You may also use this amazing mobile tracking app to monitor the activities of some of your employees who are unable to make satisfactory progress despite giving full time to their job. In this kind of scenarios, you just do not have to worry and open your employee phone spy software account and it will provide you each and every bit of things happening in your workplace.
So stop bothering about your business secrets and wastage of time by your employees and trust Employee Mobile monitoring app once and you will never lose this trust.
So improve your bottom line and protect your company with the knowledge gained from a successful employee monitoring project. What you learn could very well save you from much hardship and loss. When you use Mobile Spy employee cell phone software you will be able to view cell phone activities such as:
Websites Visited
Apps Installed
Text Messages Sent and Received
GPS Locations
Best 5 Employee Monitoring App
If you are searching for the app that can easily help you monitor the activities of your employees than this app named TheTruthSpy is the best for you. Its amazing features and benefits keep it stands first in the list of top 5 best employee monitoring apps in the World. ThTruthSpy works only in the 100% hidden mode and can easily work on all types of mobile devices like Android as well as iPhone. One big thing about TheTrurhSpy is that this spy app is 100% undetectable and allows TheTruthSpy users to read all the messages of the victims, conversations done between the two employees or employee and the competing companies. The best about TheTruthSpy is that it works easily on all leading Android enabled devices.
To use this TheThruthSpy application first you simply have to download it from the official website that is (thetruthspy.com) and install it on the target device of your employee. Once it is downloaded and installed on employee target device you can create a new account and then you have to login with it. Now you can easily start the employee monitoring process by giving the required details of the employee device.
Features
Compatible
Undetectable
Offer 24 hours customer support service
Does not require special knowledge and skills
MXSPY is one of the most accomplished employee monitoring tools designed for the smartphones tracking and monitoring purposes. This is also simple to use employee monitoring application will allow you to monitor any smartphone and tablet remotely from any other smartphone or from its official website. If you are searching for an advanced, super fast, all in one, and reliable real time location tracking and phone activities monitoring solution provider then MXSPY is the best means for that. Either it is current location or monitoring what is going into call, SMS or online section, MXSPY intelligently serves in all segments. Start using MXSPY and get instant access to the tracking features like phone calls and SMS tracking, tracking IM chats, GPS location tracking system, emails and online activities tracking, recording phone calls and surroundings, alerts in case of emergencies, remotely controlling a cell phone and much more.
Fhonetracker is also in the list most powerful employee Mobile phone spy and tracking app which allows you to keep track of all the online activities of any iPhone and Android phone of your employee. This employee monitoring app is super easy to install on the target employ's phone you want to monitor. This application works in fully hidden mode which means that your employee will never be found on the monitored phone. It starts uploading the monitored phone's usage information.
SPYERA is one of the best employing monitoring app owing to its "undetectable" feature that allows monitoring as well as tracking without been caught. Spyera offers you so many numbers of features so you can easily monitor and track any of your mobile( android and iPhone) devices remotely. This employ monitoring app is surely available for any type of smart phone from any old one to any latest one. This app has not being limited to smartphone, Spyera also helps to spy employ tablets and computers too .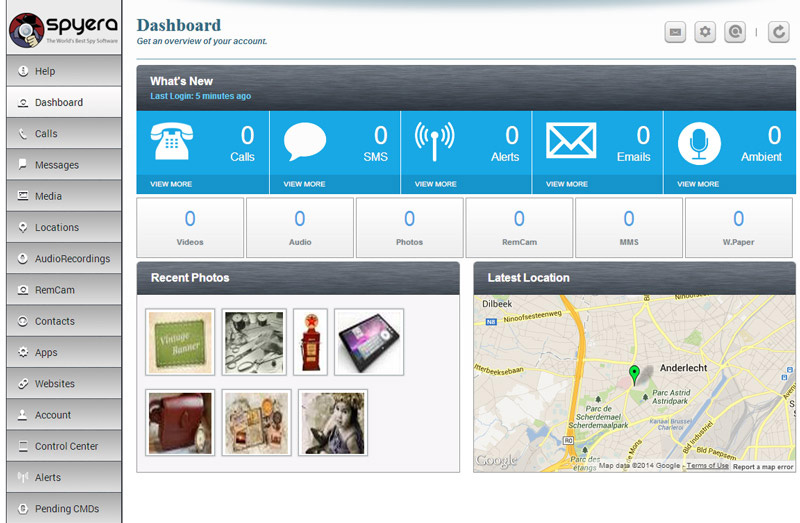 Phonesheriff is the 5th one on our list of apps that can monitor employ online activities since it serves as a trusted and safe employee mobile monitoring software for the smartphone and tablet devices. With the help of this easy-to-use app, one can simply block SMS and calls, monitor other activities on other mobile phones as well as create time schedules. PhoneSheriff proves to be a good app to monitor few other activities such as call logs, SMS, GPS info and so on.